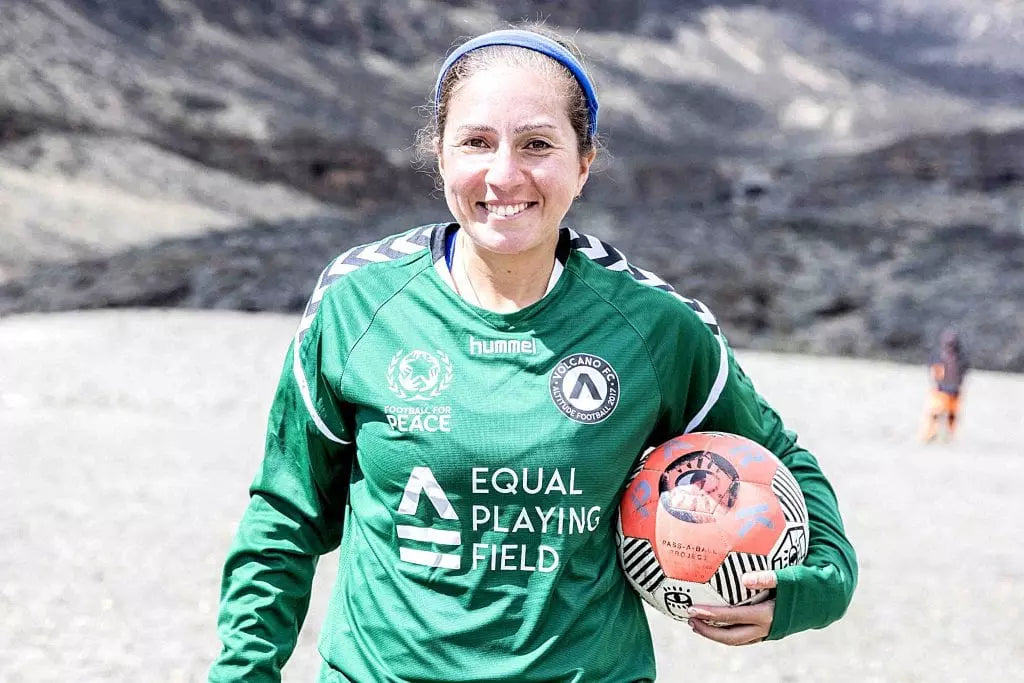 ACL Recovery Tips from the IDA Community
The "ACL Club" is an unfortunate reality for many athletes, and especially female athletes who are 4-8 times more likely to suffer a season-ending ACL injury. 
If you're currently on or about to start the "return to play" journey, you should seek advice from (and build a plan with) sports medical professionals. If they are familiar with the unique needs of female athletes, even better.
Related: Female Physiology & ACL Injuries
In the meantime though, we reached out to our own unofficial "IDA ACL Club" to hear their words of advice for any soccer players coming back from an ACL injury. Many of us have been where you are, and sometimes a pep talk from your community (or a free pair of socks) is what keeps you going. 
Deena Rahman
Former Fulham player, Coach, and current member of the IDA Team
Persevere with the rehab... It's repetitive and boring, but don't neglect the simple exercises as they are generally the most important to get the movement back (flexion/extension).

Don't isolate yourself... Stay involved with your team as much as possible. Injury is a lonely place and ACL rehab unfortunately is a long process back to the pitch.

Trust the process… Frustration could blur your goals, but you will make it back. Mark the important progress milestones you make with something you enjoy.
Alexandra Maurer 
Coach & Member, Women In Soccer
"Take physical therapy SO seriously. PT before surgery, PT the day after surgery, and as much as you can. STRENGTH will be your best friend!!! The number 1 priority is getting and staying strong. That's mentally, too. You will be in pain- so actually feel all of the pain and allow yourself to get emotional about it. You'll look back on it later and be so proud of yourself. Use this time "off" to up your game in other areas- meditation, being a great teammate, working on yourself, nutrition, sleep, etc. Find the lesson in every situation you're in. Best of luck and wishing a safe recovery"
Coach Karol BG
Member, Women In Soccer
"In order for an arrow to be propelled forward, it must first be pulled back (or set back) That tension, that uncomfortable energy will also become the propelling force. Transform the narrative of the injury, think of it as the start of THE GREATEST COMEBACK OF YOUR LIFE!"
Madison Haney
Recovery is a marathon and not a sprint, everyone recovery at different rates, everyone's journey is different. Don't get discouraged, keep you head up and stay focused on your goals. Don't push to go back before you are ready. ACL recovery is 10% physical and 90% mental.

— Madison Haney (@0402Mads)

 

February 12, 2023
Matt Bussa
I've done mine 2x. The mental part of the recovery is just as important as the physical. You might be physically capable of a step in recovery but not mentally ready. That's ok. Talk through these situations with your treatment team and support system.

— Matt Bussa (@bussa_matt)

 

January 23, 2023
Looking for an even deeper dive into the world of ACL recovery? Check out the resources curated by THE ACL CLUB. They have a lot of great info and tools to support you on your physical, mental, and emotional journey. 
And if you're getting ready to return to training soon, be sure to support your body from the ground up with comfortable footwear. While we can never promise to prevent injuries in sport, at IDA we are always designing with you and your unique biomechanic needs as the priority. 
Do you know a teammate that recently suffered an ACL injury? Send them a free pair of IDA socks to brighten their day!