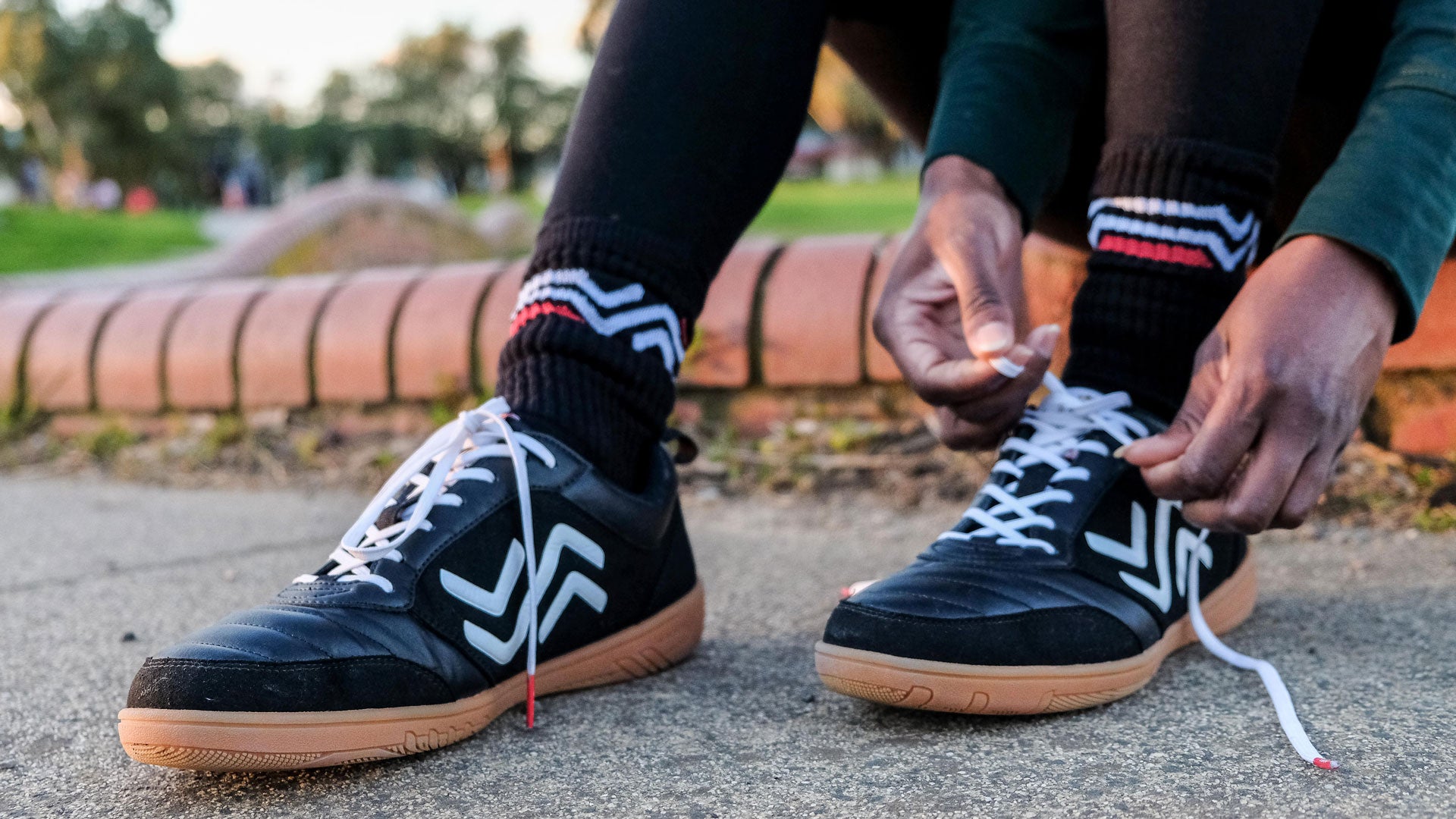 How to Lace Your Football Boots
Knowing how to lace football boots or how to lace soccer boots the right way can go a long way when it comes to injury prevention, support and stability. 

While good fitting shoe is key, the right boot lacing technique can also make a big impact in ensuring greater comfort in your chosen activity.
HOW TO LACE YOUR SHOES FOR A WIDE FOREFOOT
Looking for the best boots for women's wide feet? Look no further. Our indoor women's soccer shoes and women's football boots usually are designed with a wider toe box to accommodate women's foot shapes. However, if you still experience pain, irritation or discomfort (particularly in your smaller toe), try altering your lacing using the image below as a guide.
This shoe lacing pattern for a wider forefoot also helps in managing common women's feet conditions conditions such as: 
Bunions 

Morton's neuroma 

Turf toe

Bursitis between the metatarsal (forefoot) bones

Corns and Calluses on the 1st and 5th toes
HOW TO LACE YOUR SHOES TO AVOID HEEL SLIPPAGE
This pattern of shoe lacing is well known and often utilised to help prevent heel slippage when extra support is needed in the rear of the shoe.
This can be very helpful if you've got a particularly narrow heel.
HOW TO LACE YOUR SHOES FOR A HIGH INSTEP
This shoe lacing pattern for a higher instep has been designed to help reduce any pressure or irritation on the top of the foot.
This may be indicated if a person has:
Arthritic nodules on top of the foot;

Inflamed tendons on top of the foot secondary to irritation from firm lacing; or

Swollen soft tissue such as bursitis, a ganglion or benign cysts
HOW TO LACE YOUR SHOES FOR A NARROW FOOT
This type of shoe lacing pattern is similar to your criss-cross shoe lace pattern. This type of lacing can be utilised when dealing with a narrower foot type.
WOMEN'S FOOTBALL BOOT LACING AND WOMEN'S SOCCER BOOT LACING DO'S AND DONT'S
DO:
Thread the laces:

Thread the laces through all the holes along your foot up to the second to last holes.

Thread the last two holes on the same side:

The top shoelace holes on each side of your foot are designed to ensure your feet don't move around within your boots during play. Thread the last shoelace hole on the same side facing inwards so it creates a loop. Use this inward lace to keep your feet from sliding around.

Cross your laces:

Begin tying your laces by crossing your laces and pulling one lace under and through (or over and through) the other. Pull tight.

Loop any excess:

If you have long laces, wrap any excess shoelace around your foot under your arch and pull tight.

Tie your laces:

Tie up the laces as normal with two loops.

Tuck the excess:

Push the excess laces into the top of your shoes between your ankles and the side of your shoes.
DON'T
Loosely tie your shoelaces:

Running with loose laces is one of the easiest ways to injure yourself. Make sure you stay in the game with laces done up tight without any loose loops or dangling ends.

Use laces that are ripped in any places:

If laces have a rip, they can easily break when pulled on or stepped on. You don't want laces to break during a footy game so ensure they are in good working order so you can keep your eye on the goal and not on your feet.
HERE ARE A FEW MORE TIPS FOR KEEPING YOUR IDA FOOTBALL BOOTS IN GOOD CONDITION:
Wrap differently: If you feel pain from wrapping laces around the arch of your foot, try lacing the excess laces around under your heel.
Shorter Laces: Are your laces getting everywhere, or in the way during your runs? If so, look into getting new and shorter laces - they're worth the investment.
These lacing changes will not solve all your problems completely and certainly don't replace the need for correctly fitted footwear. However, specific shoe lacing techniques can help to make an average shoe feel better and a good shoe feel great. 
For those with wider forefoot, narrower heels and higher arches, check out some of our footwear here.